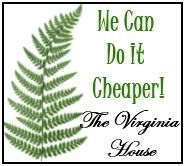 Ok dear followers and other people that lurk:-) This week I give my "
We Can Do It Cheaper Award
" (just made that up) to one creative gal. Give a creative round of applause to
Pretty Handy Girl
! She took me back to my
We Can Do It Cheaper
roots with a
GREAT
Ballard Design knockoff. Can we all say "Oooohhh-Ahhhh"? I think so.
Isn't this picture just the cats meow?
She's one of those creepily (huh?) creative and handy people that you love and hate at the same time.
You
Must
check out
her post
on how she accomplished this wonderful copy. Or just go see her blog and tell her howdy. You can click
here
, or
here
, or
here
. (now that you clicked on all of them then you realize they all take you to the same place. I really am a good traffic director eh?)
I am curious as to why one week I have thirtysomething links and the next week I have twelve. Let's boost that number shall we? There are 401 of you followers now.
Link up PEOPLE
! Uh, no pressure...
I'm sitting on the edge of my seat on the floor waiting to see what you bring to the table. Let's get some more great knockoffs like my gal did up there. I'm gunna go see what I can copy too. Be right back.
1. Only link your post URL, not your blogs address!
2. Be sure to take that button at the top with you so that everyone can know where you're linking up!
3. Please only link crafts, DIY projects like furniture, decor and such. I don't want to delete your link!