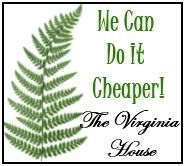 This weeks feature was chosen because of her amazing creativity and just the cuteness of her project.
Thank you to
Paisley Passion
for linking up with her
Lap Tray
.
I'm a little partial to the "W's" since that happens to be the initial of my last name.
You have to check out some of the other things she's done. I swear she could make your trash can look cute! Thanks Lori!
As always, thank you to all the rest of you who linked up. I don't always manage to comment on each project, but I do look and appreciate each and every one!
1. Only link your post URL, not your blogs address!
2. Be sure to take that button at the top with you so that everyone can know where you're linking up!
3. Please only link crafts, DIY projects and the like. I don't want to delete your link!
Don't forget to enter for your chance to win my
giveaway
!