Last week was one of those crazy ones that I really did enjoy but am glad it's over.
With the help of my sister and our friend Liz, we finished the flowers for the wedding on Friday.
The untouched flowers waiting to be used.
One of the 7 bridesmaids bouquets.
Beautiful orchid arraignments. We did two of these.
A bridesmaid holding her bouquet.
Another shot of one of the bouquets.
The wedding was held in a friends large yard. It was beautiful and
very
windy!
I snapped a picture as soon as I got done putting the flowers on because the wind was blowing them off and blowing bits of mulch onto the front of the cake.
We made 8 of these arraignments that hung down the isle on shepherds hooks.
The mother of the brides corsage.
Last but not least is the brides bouquet.
I chose 3 kinds of roses and she wanted calla lilies around the edge. I wasn't quite happy with the color so we spray painted a little pink and orange on them. We also added some spray glitter for the calla lilies as well.
She was happy, so we were happy too!
We even managed to have our family photo snapped.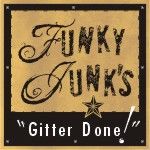 I so badly wanted to participate in Funky Junks new challenge. Since I was doing flowers for a few days then I didn't get everything I wanted to done. Although the flowers were part of my challenge too;-)
However, I am ashamed to say that I despise folding laundry, so this picture is what had been happening over a few weeks.
Sad huh. So when Funky Junk presented the challenge then I knew it was time to tackle this mountain. I am glad to say that it is all put away and a new pile has started right beside the washer that I need to go throw in. It's a
vicious, vicious
cycle!
Hope you all had a great weekend!