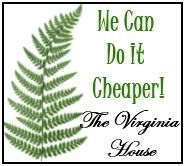 I decided to jump back in time for my own project for this months We Can Do It Cheaper.
If you want to see the original post then you can look
here
, or just read it all as it was...
This weeks project was spur of the moment and turned out to be my favorite one to date!
I saw these chippy looking peg boards on Pottery Barn and fell in love. With the price tag of $49 and $149 then I knew I could only dream of owning one.
Aren't they wonderful!
I went to Hobby Lobby and picked up a pre-made peg board and some crackle finish that works with acrylics.
My 3 year old even got to help me on this one. We put a base coat of a weathered gray color then some random spots of pure black. (all acrylics)
I then applied the crackle finish randomly as well and let it get tacky. I mixed up my own color of white by adding a bit of brown and started painting over the whole thing. As the paint became a little dry then I scratched, rubbed, sawed (with a plastic knife) and poked at it to get the right look.
The whole project took maybe an hour and my total investment was $6.50! I can't wait to hang this up in the pool house someday soon.
*Update Picture*
We use it every day! Don't know what I would do without it. (yes it was cleared of all its garish swim trunks for this photo;-)
So that was then, this is now...
Ready to link up? Here are the rules/suggestions:
1. Item needs to be a recreation/copy of something that you have seen on the internet/magazine/catalog.
2. Take my button with you to show where you're linking.
3. Wow me!
This months winner will once again be chosen by you! They will win a $10 gift certificate towards any item from the wonderful shop of
The Snootie Pig
. I'll be proudly introducing her to you next week, but in the meantime, stop by and see what treasure you would use your $10 on!
Can't wait to see whatcha got!