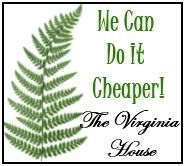 I went to Hobby Lobby today and came home with great plans of finishing my project for this weeks We Can Do It Cheaper. Alas.... You guessed it. I made a good start, but no home run. Soooo, I will save that to share with you on a later date.
Which brings me to my main subject.
I've been blogging a year!!!
I would say that I can hardly believe it but I really can. As much as I love blogging, I feel like sometimes I let it become a job to me instead of an outlet for all those squirming creative genes I carry in my toes. Not to worry, I'm not giving up on blogging, but.... I will be giving up my weekly We Can Do It Cheaper. *sigh* I know many of you have noticed me slacking off in my projects and unfortunately with a third in the oven then I don't see this changing too much. So,
I will still do We Can Do It Cheaper
, just not on a weekly basis. I'll let you know how often it will be as soon as I figure that out.
So give yourselves a round of applause for hanging with me for a whole year (or just two days if you're new...). I promise I have a list a mile long of projects that I want to take on before this baby arrives. I can't wait to start on them and show you guys!
(thanks for all the congratulations and well wishes!)
Meanwhile, forgive the lack of projects, pictures and fun stuff in this post and just go ahead and link up!
1. Only link your post URL, not your blogs address!
2. Be sure to take that button at the top with you so that everyone can know where you're linking up!
3. Please only link crafts, DIY projects like furniture, decor and such. I don't want to delete your link! Please no advertising or linking to stores.