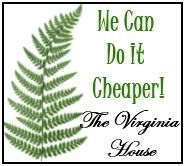 When you can have a rooster?
Ok, so I know many of you have seen and loved the rooster that has been roosting over at PB. (it has found a new home since they no longer sell them)
I don't know if my recollection is correct, but I think it retailed for around $50. It is a beauty, and anyone would be proud to own a rooster such as this. But....
When my mom and I went to Canton then she picked up 3 roosters and gifted one of them to me. It was actually a mud brown color when she bought it, but after seeing PB's magnificent (if a ceramic rooster can be magnificent) rooster, then I decided that mine needed to be white as well.
The only thing wrong with this rooster is that I have so many places for it to roost. (is that getting old?)
My total cost..
FREE!
My moms total cost, $5. Still not so bad!
By the way, have a great and thankful Thanksgiving and if you get a moment, link up!
1. Only link your post URL, not your blogs address!
2. Be sure to take that button at the top with you so that everyone can know where you're linking up!
3. Please only link crafts, DIY projects like furniture, decor and such. I don't want to delete your link!