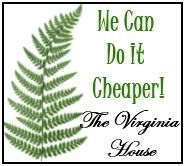 I decided to bring up one of the first We Can Do It Cheaper projects from the archives.
Remember these jars?
Read on.....
Have I told you how much I love Pottery Barn?
Well I do.
They have so many great things. Here is one of them...
Pottery Barn
Aren't they cute?
You could fill them with so many things, in so many rooms.
I can't find them on Pottery Barn's website anymore, but I found some on Ebay for $69.99.
Though etiquette tells us never to let one know the price spent on a gift... well, that ain't the we way we roll on with
We Can Do It Cheaper
. I spent $6 on jars (half off at Hobby Lobby) and $1.99 on enamel paint.
Because I didn't want to spend
more
money on stencils, I did the numbers freehand, then scratched through them with my fingernail.
Thanks for stepping back in the time machine with me. Show me your projects, old or new!
1. Only link your post URL, not your blogs address!
2. Be sure to take that button at the top with you so that everyone can know where you're linking up!
3. Please only link crafts, DIY projects like furniture, decor and such. I don't want to delete your link!