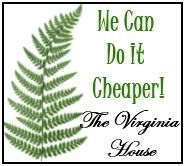 I always dream of redressing my home for each season, but sadly I'm way too cheap. I know a little pumpkin is probably within reach, but I can only go so far.
One thing I did decide to do was change out my hydrangea arrangement on my dining room table for something a little more fall like. I gotta confess though, I am not a fall color kinda gal. Orange and yellow with touches of brown just remind me of double knit and paisley. Not saying it can't be done right, but I'm trying to make some kind of point here. (wait for it....)
I went to $Tree for my fall foliage and was very surprised to actually find something. I went with greens and purples instead of oranges and stuff. (ahh, point made. I guess)
Not bad for the ol' Dollar Tree eh?
This is what it was before. Great for spring and summer, but not so much for fall.
So I spent a total of $6 on this wonderful hand plucked, straight from the field of $Tree bouquet.
Share with me your fall decorating on a budget. I need all the cheap tips I can get!
1. Only link your post URL, not your blogs address!
2. Be sure to take that button at the top with you so that everyone can know where you're linking up!
3. Please only link crafts, DIY projects like furniture, decor and such. I don't want to delete your link!