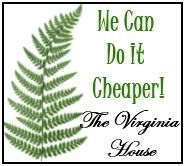 Who loves vintage blue mason jars? Raise your hand! (for all who can't see me, both my hands are in the air and I'm typing with my toes)
So I've been wanting some but haven't been able to get to any junk/flea or antique places to pick any up at a reasonable price. Though they are readily available on Etsy and Ebay, I haven't wanted to spend that kind of money on a jar.
Here is a real one from Etsy. Great isn't it!
After seeing how many on bloggy land had started "painting" jars with a mixture of Modge Podge and food coloring, I decided to give it a whirl.
I failed to take more pictures of them. Miserably failed.
I picked up a "Ball" mason jar at Hobby Lobby for about $1 and then just used some jars I had around the house. I mixed up my M.P. with my food coloring (I used the kind in little jars that you use to color icing) and kept mixing and painting on the jars till I got a color I somewhat liked. Next time I won't do them quite so blue. Anyhoo, if you don't like the color the first time, let it dry then do it again! Try to brush on your "paint" in nice even strokes so that your jars aren't too milky looking.
This is a really fun project and so easy and cheap! You can even paint the lid with a flat gray to give it more of a vintage feel. So if'n you're desiring some of them old jars but don't have the time or money... here ya go!
Thanks to all of you who linked up last week.
We had 20 linkers
!! I am super excited.
Sooo, once again, let the good times roll!
1. Only link your post URL, not your blogs address!
2. Be sure to take that button at the top with you so that everyone can know where you're linking up!
3. Please only link crafts, DIY projects and the like. I don't want to delete your link!