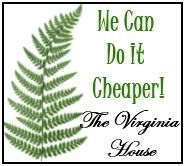 Yes you're still at The Virginia House and yes I re-wallpapered and hung some new art whilst you were slumbering. You know how the song goeth, "it's my bloggy I can redecorate if I want toooo..." or something like that...
Moving on...
This weeks feature is from a blog called
The Gathering Place
. Krista was inspired by a store in Napa Valley called
NapaStyle
. Sounds inspiring huh? Lucky for her, she had a piece just waiting for her to use her ideas on.
Doesn't it look dandy! I love the new lettering she added. Stop by and tell her if you like it or just plain love it!
Link on up and let me know wacha been doing. Crafts? Room makeovers? Would love to see some "I saw it and made it cheaper" designs! Humor me.
1. Only link your post URL, not your blogs address!
2. Be sure to take that button at the top with you so that everyone can know where you're linking up!
3. Please only link crafts, DIY projects and the like. I don't want to delete your link!