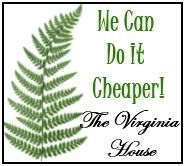 Can you believe that a week ago I didn't even know what
Ampersand
meant? I would search for "and thing", "and symbol" and so on trying to find one.
Now I think I'll name my next child Ampersand, I love them! (just kidding Mom!)
So guess what my
We Can Do It Cheaper
project is this week!!
I wish I could say that I made this myself, but I bought it.
I found it at Hobby Lobby for half off and it was gold. I painted it white and very lightly distressed some of the edges with my fingernails while it was still drying.
(yeah my dresser decor needs work, can't find a rhythm here yet)
My total cost =
$5
! I couldn't find one to compare prices on, if you know of any then let me know!
So go ahead and link up whatcha got this week.
I'm waiting.....
1. Only link your post, not your blogs address!
2. Be sure to take that button at the top with you so that everyone can know where you're linking up!