I thought this day would never arive! I'm still not sure it has since there are still a few things I would like to do. A tweak here and tweak there. I can never be truly finished with anything. Just ask me about my laundry...
So remember this room a few months back?
Then this as we started the transformation...
I had no idea what style of bathroom I was going for when we started this, I only knew the colors I was going to use. As we worked on it then things kinda fell into place and I settled on what I would call a vintage beach theme. Check out what we did and let me know what you think. I'm so glad it's now "finished" and I can move on to other things. I do plan on painting the shelf I have in there white at some time, but that will have to wait.
Hover over these images to see the before and after. (sorry they're not centered, couldn't quite get there)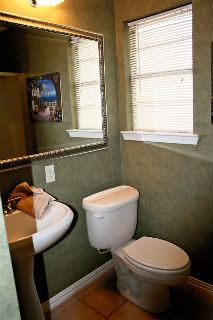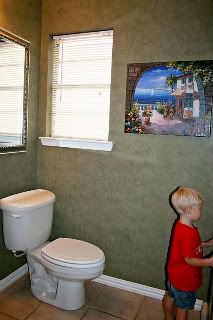 Now on to my boy's rooms....